Over the last few seasons, the receiving corps for the Mississippi State Bulldogs has seemed to be a dull spot amongst the star-studded rosters that have come through Starkville, but to my surprise, you guys voted on Twitter that you wanted to see the receivers preview first. Even though the Maroon and White have seen highly talented receivers and tight ends such as Fred Ross, Donald Gray, and Jordan Thomas in the last couple of years, I would say that the last great group of receivers to play for the Bulldogs would be the 2014 guys: De'Runnya "Bear" Wilson, Jameon Lewis, Fred Ross, Fred Brown, Gabe Myles, and Gus Walley playing TE. With that being said, I believe that this year's group of receivers will be a huge improvement from previous years'.
Wide Receivers
Stephen Guidry, #1
Guidry is one of the additions to the team that everyone is excited about, including my self. With a 6-4, 190 pound frame, he is a great vertical threat. He played two years of JUCO at Hinds Community College where he was the number one ranked JUCO wideout in the nation. Stephen was the primary target for Hinds, and it is very likely that he will have roughly the same role in Joe Moorhead's offense, his big hands and high vertical making him a great target for Nick Fitzgerald.
Devonta "Whop" Jason, #3
Whop is another newcomer to the team, and he is honestly the most exciting receiver that we have added this year in my eyes. Unlike Guidry, Jason will be a freshman, which is huge in terms of his potential. I think it is likely that he could earn a spot to be a starter this fall. With his great size, athletic ability, and high football IQ at such a young age, Whop is a guy that State fans will be hearing about for many years to come.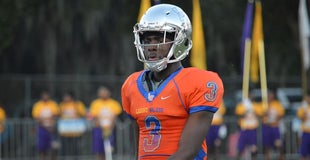 247Sports
Austin Williams, #85
If you have really been keeping up with the Dawgs since the spring, you might be asking yourself "Austin who?" Williams had arguably the most impressive spring out of all of the young receivers, especially in the spring game, where he had 5 catches for 86 yards and 3 catches for 20+ yards. Despite the struggles at receiver last year, Mullen decided to redshirt Williams (don't ask me why). He is known for his great hands and precise route running, and at 6-3, 205 pounds, he is by no means small either.
Malik Dear, #9
Malik Dear should be a name that all State fans recognize. He was expected to have a great Junior year, but he suffered a torn ACL last spring. Dear spent all of last season healing and going through rehab, but he will be ready to go in 2018. He will be a deadly short ball threat, and possibly a kick returner. His small frame, hands, and great quickness should set him up for an excellent comeback year.

Zimbio
Deddrick Thomas, #4
Deddrick Thomas will be a big name in the return game in 2018, but don't count him out as far as his receiving abilities go. His great route running and ability to make defenders miss give him the chance to be a great slot receiver. Expect Thomas to get an increase in reps with Reggie Todd's departure from the team. It will be exciting to see Thomas' improvement under new WR coach Luke Getsy.
Tight Ends
Justin Johnson, #81
Planning to make the most out of his senior year, Justin Johnson has very high expectations. He is exceptionally athletic for his 6-3, 245 frame, and now that his predecessor, Jordan Thomas, plays for the Houston Texans, Johnson's minutes will see an exponential increase. When he's not making blocks, let's hope he can be a reliable set of hands for Nick Fitzgerald in 2018.
Farrod Green, #82
Starting every year of his college career, this season is expected to be no different for Farrod Green. Although he is known for being a tough-as-nails blocker for Nick Fitzgerald and Aeris Williams, he has proven that he can also catch the ball. With 20 catches for 295 yards in his career, Green looks to add to those totals in another great year for the Bulldogs.